THIS IS A WORK IN PROGRESS
NOTICE: The most recent NTM release has significantly changed how the RBMK works. If your world has an RBMK, do not update until it is turned off. Please test the new mechanics before loading your main world(s).
More and more articles will be added from time to time
Along with this wiki's guides and descriptions, using Not Enough Items is highly recommended.
A link to the official NTM Discord server: https://discord.gg/ZFJDFBN
Hbm's Nuclear Tech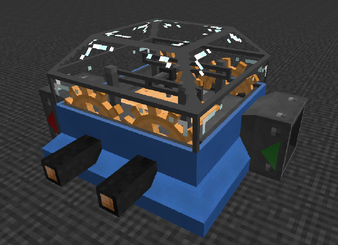 Description from Curse:
The Nuclear Tech Mod basically uses the concept of a technical mod and combines it with explosives! You can craft different bombs, mine ten new ores and use new machines to create advanced materials! The main bombs all use a GUI controlled explosion system, which requires you to fill the bombshells with explosive materials, trigger mechanisms and even radioactive parts! All explosives are survival ready, everything is craftable!
About
HBM's Nuclear Tech Mod (NTM) is a mod centered around the creation of weapons of mass destruction, including but not limited to: Nuclear Bombs, Lasers, Guns, and Turrets. This mod can also be used to power huge structures from other mods, including Industrial Craft 2, ai and others. 
Categories
Official Download Sites
NOTICE: Do NOT download NTM from sites other than the ones listed below!